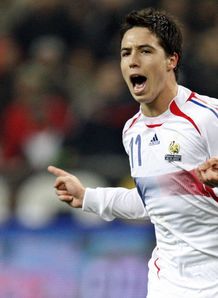 We waited and waited, and waited, some said its a done deal, some said it will happen today, tomorrow, next week. Now we can finally say that Samir Nasri who some like to call him "The New Zinedine Zidane" or "The Next Zidan" is a Gunner. Arsene Wenger was not the only one who wanted to sign Nasri, Athletico Madrid joined the bidding war and tried to affect the deal.
There were some issues in regarding to the wages, but either way it seemed that this was only going to be decided after Euro 2008. So France is out from Group Stages, less than two days later he is taking the medical and signing a four years deal with Arsenal. It had been said that Nasri had a buy-out clause of £13.5 Million.
He effectively can play on both wing sides, Nasri have scored six goals in thirty matches he played for Marseille.
Does this signing have any direct effect on who is leaving Arsenal?, Milan are heavily after Adebayor and it sure looks like he will be their man eventually, and hleb, who Nasri is believed to be filling his place, is wanted by Inter and Barca, but he is heading to Barcelona because I think Inter Milan will be getting Roma's Mancini instead.
Samir Nasri is a very talented player, a great addition to Arsenal, but what is next? We clearly need more players, Arsene Wenger needs to get an established player, like Nasri who is great, but we need more players in other positions. Around two months are left, lets see what happens.
And now have a look at the new gem that joined the Gunners:
1 comment June 20th, 2008