December 13th, 2007 at 09:53pm ibrahimo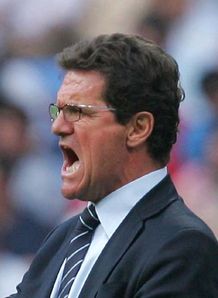 Fabio Capello arrived to London yesterday and held talks with the English FA. The FA communication director have described the talks as positive and without any problems. The discussions lasted for 3 hours where after Capello traveled back to Milan and left his lawyers to finalize the deal. It is being said that Capello will be getting £4.5 Million per year where the contract will mostly last til the end of the World Cup 2010.
Capello said yesterday that he thinks the problem with England players is mostly psychological. He is amazed how England was not able to qualify to Euro 2008 and he thinks the players have a mental block!
Here what he had to say :
"There is tremendous difference in the attitude they show from one game to the next.  How can players of the level of Beckham or Owen have performances so different when they play for their national team?" questioned Capello.  "It's clear the shirt is very heavy even for those great champions."
"It's clear there is a mental block, otherwise how can you explain their elimination from Euro 2008?  We managers ask ourselves how can England, with the players they have, not qualify for the 2008 European Championships?  The English team, much like the Spanish team, wins very little despite having some very good players." 
"I've watched some of the games of the English, in the match against Russia in Moscow they played defensively.  They sat right outside their own 18-yard box for 90 minutes despite having the advantage after taking a 1-0 lead in the first half.  Against Croatia at Wembley they were all playing up front.  They lost 2-3 when a draw at home would have been enough for them to qualify."
In my opinion Capello is better than Maurinho for England, and I know he will make huge changes to the squad, and some of those might not be so happily accepted by England fans, but that's how he works. I wont be surprised if he does not choose Beckham for example, I wont be amazed if he does not choose to keep Terry as captain. Change is on the way, is it good change? bad change? who know, but you will see a totally different England team.
The first match Capello will play will be a home game played in Wembley stadium against Switzerland in Feb. 2008.
Entry Filed under: Sports
Tags:
beckham
,
capello
,
club
,
couch
,
england
,
euro 2008
,
fa
,
fabio
,
football
,
london
,
manager
,
milan
,
owen
,
soccer
,
team
,
world cup
,
world cup 2010
,
wuro